MECHANICAL FELLING WEDGE, PLASTIC WEDGE, HOLLOW HIGH LIFT WEDGE, FELLING BAR LEVER, SPLITTING WEDGE etc

---

KOLLER MECHANICAL FELLING WEDGE
Safer lifting of trees. Smooth lifting action, no shock from hitting wedges into cuts, less chance of falling debris. Much less effort required than using a sledge hammer! The gearing on these mechanical wedges makes this the easiest wedge I have ever used. Any questions please contact me.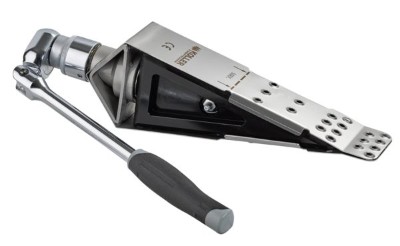 The Koller Mechanical Wedge has been designed and manufactured by Koller Forsttechnik GmbH in Austria and is CE stamped and marked for identification purposes.

The mechanical wedge conforms to all relevant provisions of the Directive for Machinery (2006/42/EG) .
The following harmonised standards have been applied:
ISO 12100 Safety of Machinery - risk assessment and risk reduction.

An instruction manual is supplied which also confirms the technical spec and CE directives.


Two models available - For medium or large sized trees
Low weight design for user benefit.
The ratchet is counterclockwise for ease of use

Special raised knobs on the spreader plate prevent the wedge from slipping out.
               Medium        Large

Length:           350 mm         350mm
Width:            65 mm          95mm
Height:            85 mm         85 mm
Wedge height:         80 mm        80 mm

Lever length:         310 mm         310mm

Lifting capacity approx.     15 tons        20 tons

Weight incl. Articulated ratchet:  2.9 kg         3.6kg
See below for the wedge in action!

Price:  from £390 Exc VAT
---
Mechanical Felling Wedge with Rack Ratchet Drive
Very robust mechanical felling wedge designed for ergonomic and vibration-free timber harvesting. Mechanically, the principle employed is as simple as it is functional: a gear lever multiplies the pressure from the hand lever so pressing a wedge between two steel plates via a rack drive. The tree in question is then raised slowly and finally felled. Achieved with a lifting force of 60 kN (6T) however for the user on the ratchet lever only 350 N required.

Lifting force: 6T

Lifting height: 5.5 cm.

Length 44.5 cm.

Width 15 cm.

Height incl. handle 25 cm.

Weight 9.9 kg.

Price: £166.15 Exc VAT
---
Plastic Felling Wedge
Low rake for easier lifting. Raised grips for holding in cut.
Sizes: 14cm, 19cm, 23cm and 30cm

Price: £3.75, £5.00, £6.25 and £9.17 Exc VAT
---
Nordforest Hi-Lift Wedge
Hollow Aluminium Felling and Splitting Wedge Complete

Consists of Aluminium Wedge Shoe
Aluminium Ring
White Beech Insert
Weight 1340 g.Price: £22.50 Exc. VAT
---
Replacement Wooden Shaft for Hollow High Lift Wedge

Beech or Hickory option
Length: 240mm
Diameter: 52mm
Price from: £3.25 Exc VAT

---
---
Felling Break Bar Levers

with cant hook. Angled handle for easier lifting.
130cm. Weight 3.85kg - £54.17 Exc VAT - temporarily out of stock
80cm. Weight 2.15kg - £37.50 Exc VAT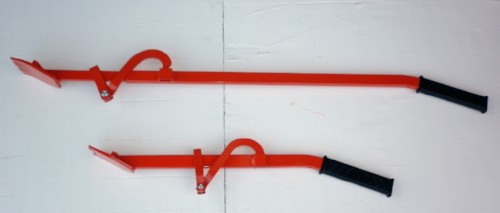 EIA Mini Felling Lever
43 cm. Weight: 740 g - £22.50 Exc VAT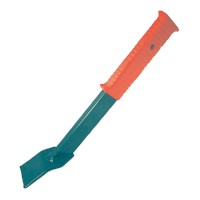 ---
Ochsenkopf Felling and Splitting Wedge

Solid aluminium wedge with herring-bone grooves to provide a good hold in timber.

Available in three sizes:
Size 1 - Lift height 3.5cm, Length 22cm, Width 4.5cm, Weight 580g Size 2 - Lift height 3.5cm, Length 26.5cm, Width 5.5cm, Wt 850g
Size 3 - Lift height 4cm, Length 26cm, Width 6cm, Weight 1050g

Price from: £20.00 Exc VAT
---
---
Estwing Sure-Split Wedge
5 lb wedge has a revolutionary concept in design which makes splitting wood fast and easy. This wedge has a fast taper head for easy starting. The Sure Split fins permit extra wedge action and the sledge will continue through out below the wood line for sure splitting.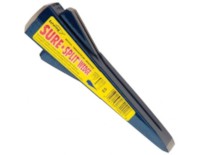 Price: £17.29
---