PULLEYS
Not all are available in our shop so please email if you cannot find it.
SRLF Rope Pulley with Rigid Side Plates
Roller made of steel, electro galvanised, with ball bearing and plastic coated side plates with captive screw plug.
SRL F9 Tensile Force 3t Sheave 90mm Rope Max 10mm £69.95 Exc
SRLF 13 Tensile Force 5t Sheave 130mm Rope Max 14mm £100.19 Exc
SRLF 16 Tensile Force 16t Sheave 159mm Rope Max 14mm £352.19 Exc Contact us for availability
SRLF 24 Tensile Force 24t Sheave 240mm Rope Max 16mm £624.00 Exc Contact us for availability
---
---
SRL 07 Rope Pulley Open
Deflection pulley for winch rope for trailing and choking in tight woods.
The rope can be inserted directly.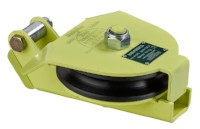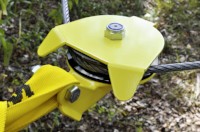 SRL 07 Payload 7t Pulley 160mm Rope Max 14mm
Length: 260 mm. Width: 195 mm. Weight: 5.2 kg

Price: £165.80 Exc VAT

---
SRLB Rope Pulley with movable side plates.

Roller made of steel, electrogalvanized with ball bearing. Side plates with plastic coated eyelets. Rope assembly by twisting the side plates.
SRLB14 SWL6t Pulley 140mm Rope max 14mm
Price: £162.02 Exc VAT
---
AUTO RELEASE PULLEY
Guide pulley self-triggering (rope pulley for automatic removal). For dragging/ground course only (not lifting). Therefore not required to be CE marked but is plated with serial number and tensile force/payload limits.
For the deflection of winch cables, even on long distances.

As soon as the rope sliding lug or the main hooks reach the roller, the trigger mechanism is actuated and the winch rope is released.
Steel roller with ball bearing.

Appropriate for persons working alone. Automatic change of direction when pulling. The rope falls out of the pulley by hitting the sliding shoe.
Max Rope size 12mm
Tensile force 9ton
Sheave diameter 130mm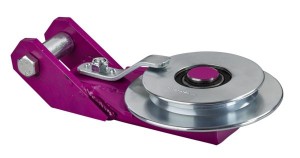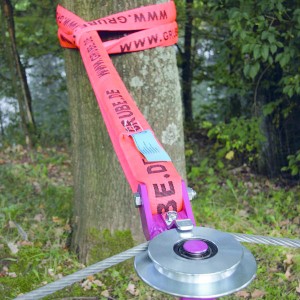 Sling not included.
Price: £217.25 Exc VAT

---
---
---
Round Slings
Polyester Endless Round Slings
Range of safe working load sizes in various lengths.
These high quality and durable round slings are ideal for lifting applications as an alternative to chain slings, wire rope slings or webbing slings. Light weight and easy to transport, a cost effective and efficient alternative.
100% Polyester EN1492-2 : 2000
Factor of Safety: 7:1